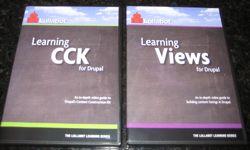 After much compression, menu making, package designing, and eventual thumb twiddling while they made their way through the pressing plant, we finally have the latest Lullabot Learning Series DVDs in hand!
Lullabot's latest Drupal training DVDs are Learning CCK and Learning Views. While the high-definition download video versions have been available for several weeks, the DVD versions are now sitting at our warehouse ready to ship.
Since each of these videos is close to 2 hour long, the downloads are about 1.5GB each. Even though they're high-quality and high-definition, that's still a lot to download. Many people requested the DVD versions and now we're happy to provide the more convenient, conventional DVDs, packaged in nice durable DVD cases. Put 'em on your shelf. Pop 'em in your DVD player. Watch 'em on your TV -or- your computer!
These DVDs are region-free so you can play them on any DVD player, worldwide. And we can ship worldwide, so if you live somewhere where the download is a problem, or if you, like me, simply prefer the convenience of a DVD, head on over to the Lullabot Store and order yours today.