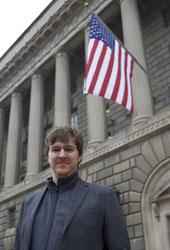 When I saw Tim O'Reilly last year, he asked how much Drupal is being used in government agencies. And other than its popularity for political campaigns and NGOs, my answer was "Not too much". But since that time we've seen quite a boom. In addition to these federal sites, we've been seeing Drupal at the state level with exemplary sites like New York State Senate which leverages email, mobile, and social networking to keep its citizens connected. (We'll have the New York Senate team presenting about this site at the Do It With Drupal Seminar in December.) We're also starting to see Drupal becoming a flexible and inexpensive platform for local city and town governments to create sites with much more interactive and rich content than they could afford in the past.
It's exciting to see Drupal bringing a new level of transparency and openness to government -- allowing for more understanding and involvement by citizens. While most of this government information and data was theoretically open in the past, the truth was that you had to find the right people to open the right file cabinets in the right storage rooms to get what you needed. Now, thanks to the web, the barrier of involvement has gotten a lot lower. Whether it's finding out the wait time at the nearest Registry of Motor Vehicles, downloading the application for a dog license, or keeping track of how your state representative is voting on the issues, the Internet is making it easier. Drupal can provide a quick flexible way to build these feature rich sites.
And for all those other government agencies looking to get up to speed quickly with Drupal, we'll be happy to help!