Drupal's built-in support for generating RSS feeds has long been an easy selling point. Do you have content? If so, Drupal will generate a feed of it, easy-peasy! Unfortunately, that RSS support hasn't kept up with the flexibility of Drupal's FieldAPI. The RSS format supports extensions to handle data types like file attachments, location data, and so on. By default, though, Drupal, jams all of your custom field data into the body of the RSS feed as simple text. That's where
RSS Field Formatters
comes in.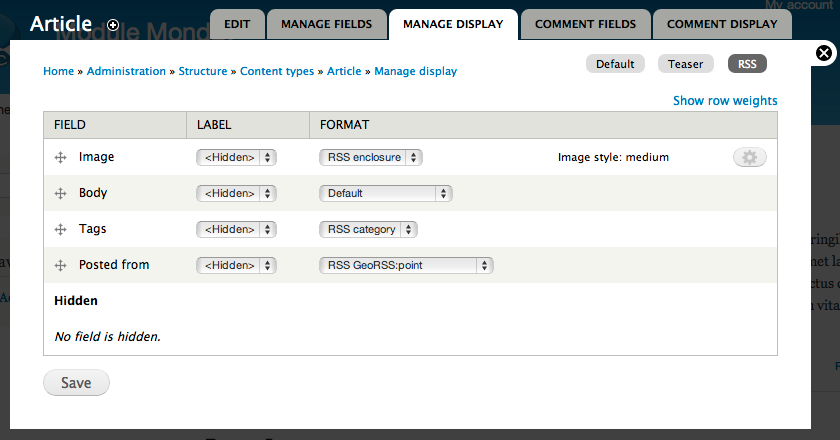 RSS Field Formatters is a collection of slick formatters for Date, Geo Location, User Reference, Taxonomy, File Upload, and Media fields. Just set up your content type with the fields you'd normally use -- then, for the content type's "RSS" build mode, select the RSS-specific formatters for the fields you'd like to appear in proper feed elements.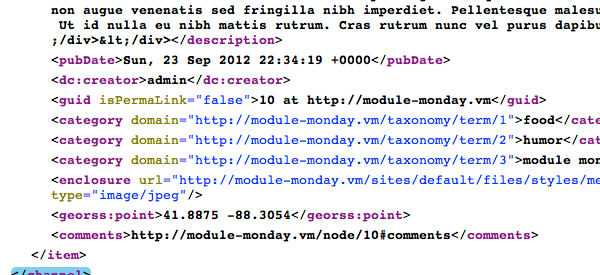 The results aren't flashy, unless you're an XML aficionado, but the improvement is important. If you're using RSS your RSS feed to move content from one site to another, the properly-formatted data fields can be imported more efficiently. In addition, geolocation and media attachments can be parsed and presented to users by many news feed readers: it's always better to pass along the data in a format they can work with.
RSS Field Formatters
is smooth, easy to set up, and does a great job of sprucing up your RSS feeds with complex data that would otherwise go to waste.