Almost two years ago, DC Comics launched an interesting web site called "
Zuda
." Built on Drupal, its goal was to provide talented indie webcomic artists with a chance to pitch their ideas, compete against other artists for reader votes, and potentially get signed for The Big Leagues. (Think of it like American Idol for web comics.)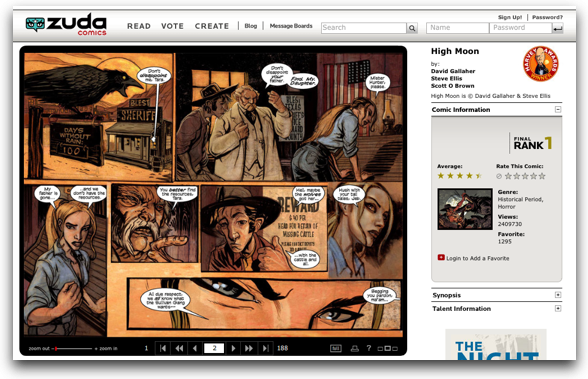 During the final lap before Zuda's launch, Lullabot helped its team with theming training, feature tweaks, and performance optimization. As a long-time fan of webcomics, I was excited to be a part of the project, even late in the game. We worked closely with the Zuda development team during that phase, and were thrilled to see it launch successfully. Drupal's emphasis on social features and support for audience contribution of content provided them with a great platform for development on a tight timeline. At the time of its launch, Zuda was controversial -- some thought it was a great idea, others in the webcomics world thought that it was just an attempt by a corporation to elbow in on a new market. Everyone agreed, though, that the site itself was a new approach to bridging the free-for-all world of webcomics with the editorially-controlled land of "Pro Comics." Today it's still going strong, still running on Drupal, and -- even more exciting -- three Zuda winners were nominated for
Harvey Awards
, a prestigious comics industry award.
High Moon
, the comic featured in the screenshot above, even walked away with the award for Best Online Comic. Scott Kurtz, the mastermind behind the popular
PVP Online
comic,
had some really cool stuff to say about Zuda
after the awards. Kurtz was an early critic of the site, but it sounds like he's come to respect the Zuda team for the passion they have for their vision, and their unique approach to bringing great talent to a wider audience. It's encouraging to see Zuda evolving into a valuable part of the comics landscape -- and doubly exciting to see Drupal helping them do that. Congratulations, Zuda!