Have you checked out the Do It With Drupal website lately? There are a lot of exciting things happening! This year's keynotes come from Lullabot co-founder, Jeff Robbins, Brain Traffic's Kristina Halvorson and Drupal founder, Dries Buytaert. DiWD also has a lot of other awesome speakers coming. Check out our updated schedule to get a good overview of all of the sessions.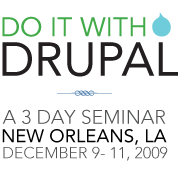 Back by popular demand, we will be doing case studies and site dissections from top Drupal sites including the Economist, New York Senate, and MTV UK. We'll have their development teams on hand to crack them open for us, show us what makes 'em tick, and answer our copious questions. We're also building and demonstrating Drupal fantasy sites – we create clones of popular websites in Drupal. This year's clones include Etsy, Craig's List and Yelp.
We've got master classes from Views and Panels author Earl Miles, Ubercart uber-guy Ryan Szrama, Organic Groups author, Moshe Weitzman, and Karen "the Queen of CCK" Stevenson talking about both CCK and date/event handling. We've got Drupal 7 co-lead Angie Byron talking about Drupal 7 and the list goes on and on. We've also got some great speakers from outside of the Drupal community coming to talk about many of the non-Drupal skills needed to build a successful Drupal project -- these include content strategy, community building, project management, and understanding some of the emerging technologies which we will all need to integrate into our sites over the next few years.
Another important part of the Do It With Drupal experience is the social interaction and networking. Want to share a drink with some of Drupal's top developers? Want to meet other site builders, developers, and decision-makers who are in the same boat as you? Want to find some people to help answer your Drupal questions? With most of the event happening in one central place and organized evening events – not to mention lots of fun stuff nearby in the French Quarter, it's easy to meet people at Do It With Drupal!
What else besides a lot of interesting information and amazing speakers do you receive if you come to New Orleans you ask? How about these highlights:
Amazing food - free breakfast and lunch each day for attendees
A sweet swag bag that includes, yes... swag! Oh... and a Lullabot t-shirt.
Your choice of one DVD from our popular Lullabot Learning Series
Access to the 2009 Do It With Drupal video archive. We're recording it all! Go online once you get home and catch the sessions you missed during the excitement.
Come hang out with Lullabot team, with a hammer and nails, at the Habitat for Humanity event on Saturday.
Lullabot temporary tattoos. Pretend they're permanent. Look tough.
We'll see you in New Orleans!