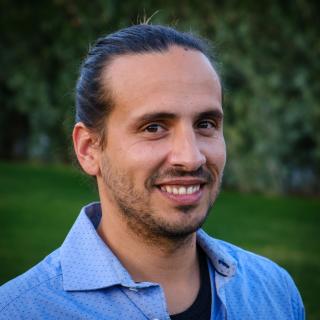 If you're going to work for a distributed company, you might as well live in the most envy-inducing place possible. Of all the Lullabots, Mateu Aguiló Bosch probably wins the prize. As a resident of the tropical paradise Mallorca, Spain, Mateu enjoys long hikes on unspoiled Mediterranean beaches, playing tennis and soccer, and, occasionally, sampling from the island's 2400 restaurants.
Mateu's mother knew the then-9-year-old was bound for a career in engineering when Mateu, frustrated that the family VCR wasn't working, opened it up, found a jam, and repaired it unbidden. She decided to buy him a computer at that point, and soon he was writing Dos Shell programs.
Mateu started his professional engineering career in 2005 as a speech recognition developer after finishing his degree in telecommunications engineering in Barcelona and doing his Master's thesis at UC Berkeley. He was hired by the university in Barcelona to do full-time research about acoustic pattern recognition and language detection but felt constrained chasing fractional improvements in speech recognition. Frustrated that he could not explain what he was doing to family and friends, Mateu switched to web development where the fruits of his labor were more evident to them.
Mateu started with Drupal in 2009 as a freelancer and then worked at a Spanish company where he gained experience working on large NGO sites. Maintainer of Drupal Core, author of the JSON:API module, the RESTful module, Simple OAuth, Subrequests, Environment Indicator, and several others, Mateu tries to share as much as he can with the community: through IRC, Google Summer of Code, Slack, and his YouTube channel. Mateu is also the coordinator of the Drupal API-First initiative and one of the creators of the Contenta CMS project. Mateu has also extensive expertise in API design, node.js development and contribution, and distributed architectures in the cloud.