Drupal's highly granular permissions system allows site builders to control who can create, edit, and delete
each
type of content on the site. Third-party modules can add additional permissions to that mix as well, paving the way for extremely focused role-based permission setups. The interface for configuring all of those permissions, however, is more than a bit cumbersome. Thankfully, the
Permissions Grid
module offers a solution: a consolidated permissions page that
only
includes node and entity type specific options.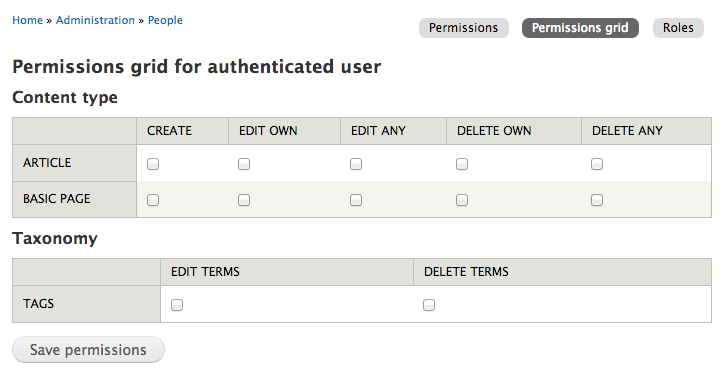 Installing the module doesn't alter the operation of Drupal's standard permission forms. Rather, it adds an additional "Permissions Grid" page that exposes just node and entity related permissions. Because Drupal 7's entity system includes Taxonomy terms,
Drupal Commerce
products,
Flag module
flag types, and more. Because the permissions are organized by content and entity type rather than by name (the normal Permission screen's default), it's quite a bit simpler to set them up or skim them to review their current state.
Permissions Grid
is a simple module, but if you're frustrated by the complexity of node type permissions, it's a quick and painless solution.