Drupal 8's end of life happens on November 2, 2021.
Are you ready to upgrade your Drupal 8 site to Drupal 9? Start with an audit, so you know exactly what to expect.
When upgrading to Drupal 9, the level of effort varies based on the different modules and themes you are currently using. You likely have a unique combination of contrib modules, themes, and custom code, and an audit will provide clarity on what your next steps should be.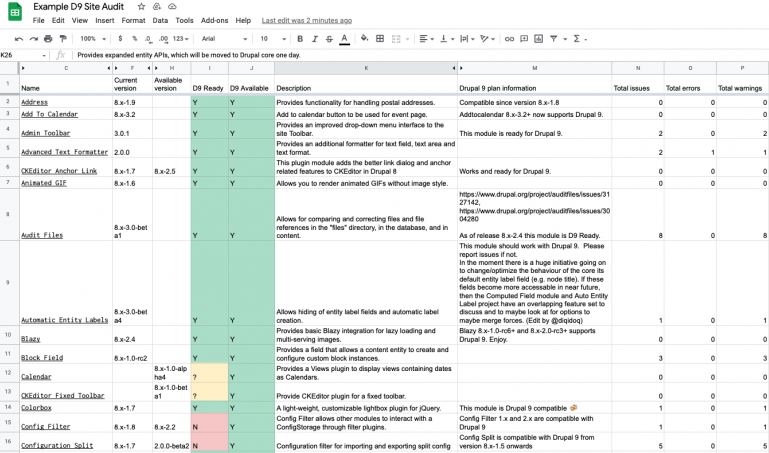 What You Will Get
With a sanitized copy of your website, code, and database, we can generate a report of your contrib and custom modules and themes to identify whether or not they're ready for Drupal 9. If they're not ready, we can identify most deprecated code changes and provide suggestions on how to make your modules Drupal 9 compatible. Your module audit report will include:
Uninstalled modules that need to be removed to simplify the upgrade process
Modules listed and linked to their respective project pages
Currently installed module versions
Latest available release version
Drupal 9 readiness of modules
Total issues and errors
Warnings for modules without Drupal 9 versions
Links to Drupal 9 issues and patches (if available)
Recommendations for grouping module updates together based on functionality and risks
1-hour meeting to discuss deliverables and Q&A
Get a readiness audit and you'll be well-prepared for Drupal 8's EOL.