Renovating the Digital Home of an Award-Winning Home Enthusiast Brand
View the site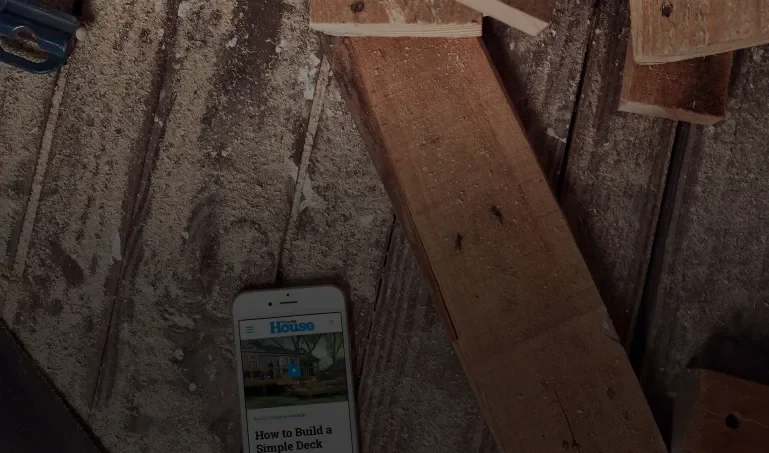 This Old House is a multi-platform brand that teaches, guides, and inspires home improvement enthusiasts. As new ownership was taking over, we partnered with their amazing team to breathe new life into the brand's digital experience with a new responsive design that would deliver content to any device. A timeline of a few months was ambitious for such a large website that had accumulated massive amounts of content over the years, but we rose to the challenge to ensure the project launched in time.
Creating great UX on a tight timeline
With quickly approaching deadlines, we immediately began to chip away at what the main focus of the project would be. To accomplish this, we interviewed the content team for This Old House to gain a deeper understanding of the pain points and opportunities for improvement that existed with the website's current state from their perspective.
An intensive three-day workshop at This Old House offices in New York followed that included every stakeholder involved in the project: strategists, designers, engineers, executives, magazine and web editors, TV producers, and copywriters. With each stakeholder's unique expertise and perspective, we were able to hone in on and prioritize the things that were most important to the website users and the business goals.
A unified how-to experience on all devices
Users mostly visit This Old House for how-to information, so creating a more unified approach to navigating and viewing this content was paramount. Video and written content existed on separate URLs, pagination issues required clicking through multiple pages to follow step-by-step processes, and many details were lost due to the site's separated and limited mobile strategy. We improved this experience by: 
Providing video and written step-by-step info all in one place
Building pages that include every step on a single page with easy ways to jump ahead
Optimizing the design for smaller screens with a mobile-first approach for easy and quick access to information on all devices
Simple navigation organized the way users think
This Old House creates content that's incredibly useful for a wide variety of people of varying ages and gender. Using quick user tests with actual magazine subscribers and site users, we simplified the site's navigation around "user modes" that reflected what's common among all users; what they're there to do. People come to the site looking to watch one of the shows, learn how to do something or get inspiration and ideas for projects they're still thinking about and planning.
Galleries and steps that don't wear fingers out
To improve the mobile experience, we eliminated clicking and loading each photo in each gallery. We also simplified accessing "how-to" steps by eliminating multiple pages reloads. And we did this in a way that maintains compatibility with mobile ads and sponsorship opportunities for the continuation of critical business operations.
A site that celebrates the shows and their talent
This Old House is a historic brand beloved for its Emmy-winning home improvement TV series, but the website wasn't celebrating that. We worked to feature the shows, the talent, and their great video content throughout the site, making it easier for fans and DIY'ers alike to find and watch the content they want.
Project credits
The following people contributed to the success of this project.
Jared Ponchot

CCO

Jeff Eaton

Former Senior Digital Strategist

Jen Witkowski

Associate Design Director
Anchor to move to the services section
Services
We provided the following kinds of services to help this project succeed.
Digital & Content Strategy

UX & Design