The Forefront of Medicine Meets the Forefront of Publishing
View the site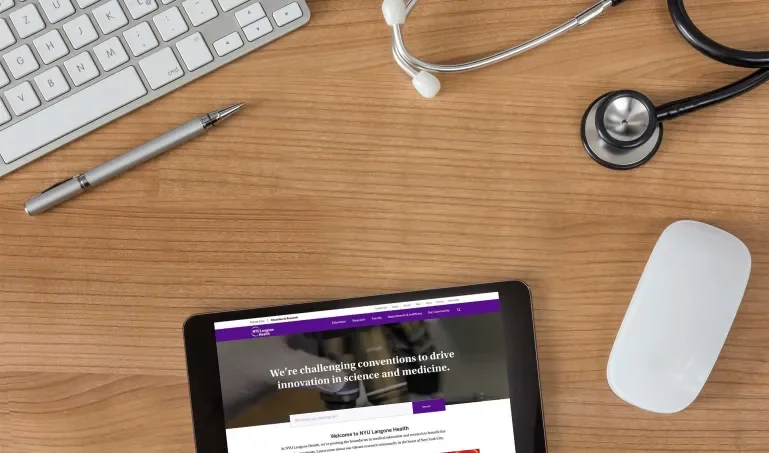 NYU School of Medicine is one of the top medical schools in the nation that brings together some of the brightest minds in medical education and research. They needed a platform to manage hundreds of Drupal instances making up a single site, integrating marketing pages, departments, faculty profiles, search, and more. We built a Drupal framework to drive 20+ sites for the initial rollout, using flexible components to allow producers to build out 1000+ articles and landing pages that included images, videos, and promotional capabilities.
A sprawling network of departments, labs, and institutes
The NYU Langone's Digital Communications Team maintains over 250 websites comprised of their main .edu website, departments, labs, and institutes. They have various internal services accessed through APIs that centralize data, such as faculty profiles or search results, for use across the School of Medicine. When it came time to overhaul their existing content management system, they looked to Drupal and us.
Seamless navigation across multiple sites
NYU Langone School of Medicine's site hierarchy is complex and made up of many interconnected parts. We worked with NYU Langone to design navigational solutions that meet the needs of the editorial team, simplified the user experience, and worked within the constraints imposed by deployment across multiple Drupal and non-Drupal environments.
Component-based page construction
A single-page template would not serve the diverse content needs of their research and educational stakeholders. We envisioned and built a component-based solution where editors could assemble the right mix of content, images, and video to tell the NYU Langone story and keep visitors moving through the site to find what they're looking for.
Enterprise-wide search integration
The NYU School of Medicine content and faculty profiles had very specific search needs. We worked with NYU Langone to take advantage of their custom search API to build several flavors of search experience used in specific areas of the site.
Project credits
The following people contributed to the success of this project.
Andrew Berry

Director of Technology

Ben Chavet

Former Senior Systems Architect

Darren Petersen

Director of Projects

Dave Reid

Lead Engineer

Greg Dunlap

Director of Strategy

Jen Witkowski

Associate Design Director

Jerad Bitner

Former Senior Technical Project Manager

Juan Olalla Olmo

Former Senior Developer

Heather Drummond

Former Senior Front-end Developer

Matt Oliveira

Senior Developer

Matt Robison

Content Writer & Strategist

Matthew Tift

Lead Engineer
Anchor to move to the services section
Services
We provided the following kinds of services to help this project succeed.
Deployment

Digital & Content Strategy

Drupal Development

Front-end Development

Technical Project Management

UI Design

UX & Design