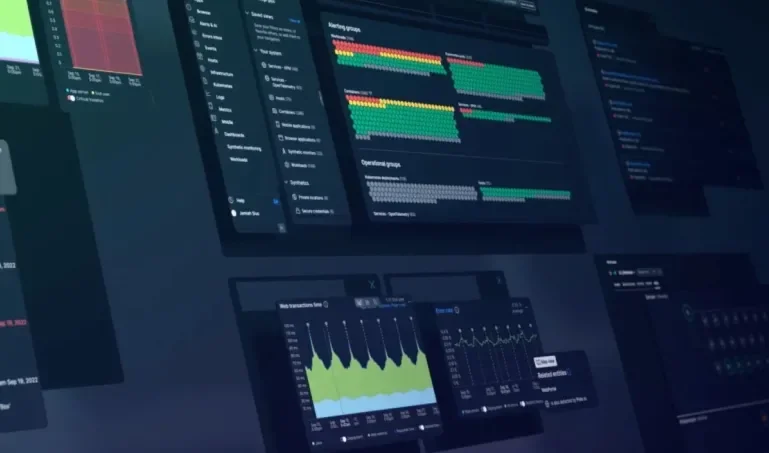 New Relic is a cloud-based platform that helps teams track website and application performance. They have over 15,000 global customers who rely on the platform to find and fix problems quickly, enable high-performing DevOps teams to thrive, and deliver seamless experiences to end-users.
New Relic experienced tremendous growth over the past few years, and its website was built for an earlier, less rapidly updating environment. As a result, publishing tools became fragmented and challenging to use, and launching new landing pages required extensive time and effort. So, we created a streamlined content management system on Drupal that enables New Relic's marketing team to communicate quickly and effectively with their target audiences.
A design system enabling flexible, self-service landing pages
Before moving to Drupal, each new page was custom-designed, custom components were built to implement the design, and then those components were rarely used again. Editors were constantly creating brand-new pages.
To solve this problem, we created a design system that includes all available designed components at different breakpoints to help assemble the building blocks of a page. Content authors can browse the design system library, choose a template they want, and see all of the components that make up that template. 
These templates and their components map to tools in the editorial interface, so constructing landing pages is now a matter of assembling the appropriate pieces using a template approach. Each template can be replicated and repurposed instead of full customization. This model completely changes the way New Relic publishes content. New Relic can now iterate and launch pages quickly, contributing to a 400% increase in visitor signups.
A migration from many to one
New Relic had accumulated several platforms to meet various needs, including two WordPress blogs, Adobe Experience Manager, a custom CMS, and just raw HTML. To unify the content experience into Drupal 9, each platform required a different migration strategy. We determined each strategy by inventorying URLs, organizing content audits, mapping out the data architecture from each source, and then initiating a migration process for each source.
Agile publishing for the future
To grow, New Relic needs to reach target audiences with agility and speed, and now, their publishing tools are no longer an obstacle to this goal. The new Drupal website enables them to:
reach more people than ever before.

publish content from different geographical locations in five supported languages, with more to come. 

templatize and reuse complex landing pages without editors spending time re-inventing the wheel. 

add new components and patterns weekly that easily slide into current workflows and meet evolving needs.

respond quickly to opportunities due to the integration of marketing automation.

communicate the right message at the right time with speed and precision.
The result
New Relic went from publishing a few landing pages per quarter to publishing dozens, all with consistent branding and flexible layouts. For one product, this rapid-fire publication model led to a 4x increase in the visitor signup (VSU) rate and a nearly 4x decrease in cost per VSU.
Special thanks to Gus Childs, Lynn Winter, and Angela Edmundson for their contributions to this project.
Project credits
The following people contributed to the success of this project.
Ana Barcelona

Associate Design Director

Aubrey Sambor

Lead Engineer

M. Nikki Flores

Technical Project Manager

Marcos Cano

Senior Developer

Matt Kleve

Senior Developer

Nate Lampton

Senior Technical Architect

Heather Drummond

Former Senior Front-end Developer
Anchor to move to the services section
Services
We provided the following kinds of services to help this project succeed.
Data Migration

Digital & Content Strategy

Drupal Development

User & Market Research

UX & Design