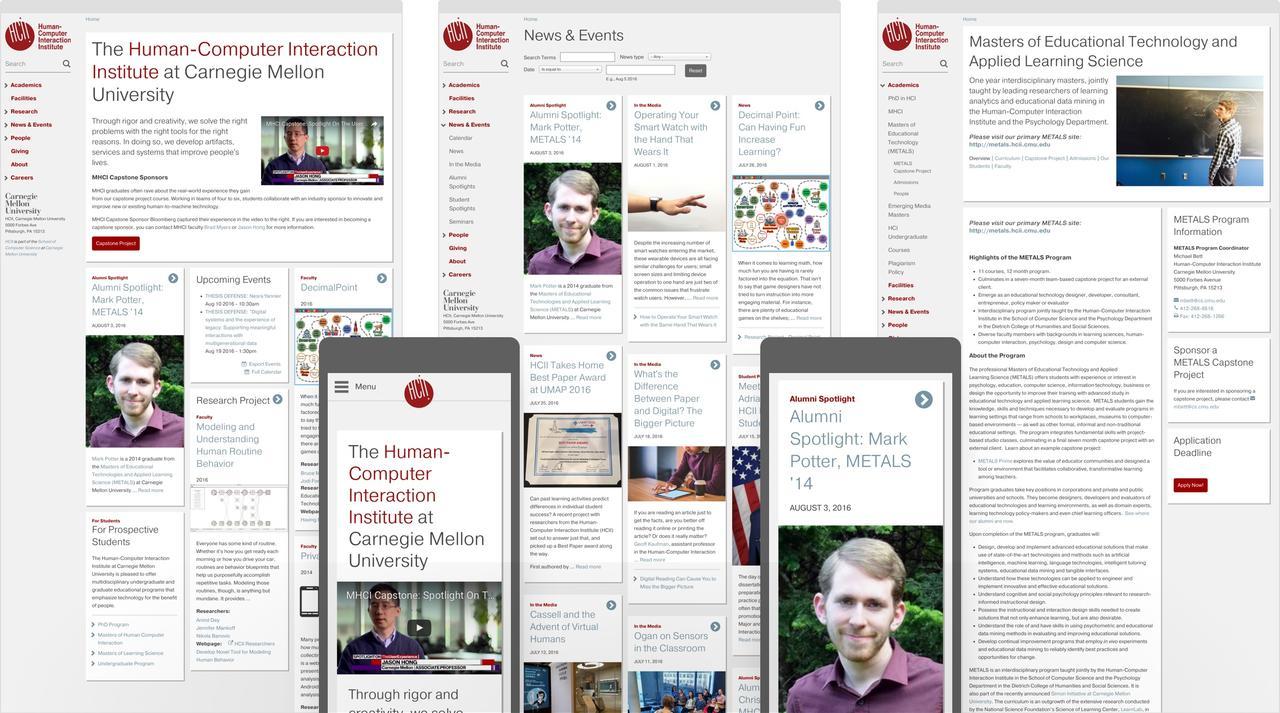 As an institution with computer technology at its core, HCII's website is a crucially important and visible resource. Its visitors, including students, faculty, alumni, and the general public, are an especially tech-savvy bunch, with high expectations for the site's design, UX, functionality, and performance. While CMU was happy with the designs on the HCII website, they wanted to clean up the theme, revamp search and authentication, and improve overall site performance. We enthusiastically took up the challenge of rebuilding HCII's site to achieve these goals and brought together our team consisting of project manager Jerad Bitner, Drupal developer Sidharth Kshatriya, and front-end developer Wes Ruvalcaba.
Working in close collaboration with CMU's Web Technology Services team, we successfully rebuilt www.hcii.cmu.edu in about nine weeks. HCII's new website retains its original designs, but now features faster performance, UX tweaks that improve the mobile/touchscreen experience, a better Panels interface for editors, improved search, authentication and accessibility, responsive images, and a nifty Pattern Lab implementation on the front-end. In addition, it's now utilizing more of the foundational Drupal modules that are commonly used across CMU, leaving it well-positioned for future enhancements and updates.
The new site debuted to hearty praise from site editors and visitors alike, and we absolutely loved the experience of helping HCII's website more closely reflect its heritage of innovative research and education!
"This project has run super smoothly. You guys are a pleasure to work with, super organized, and do great work. The department is very happy with the product and it's going to be a very helpful tool for them going forward. And you taught my team a bunch of great new stuff that we'll use for a long time."
Jordan Harrison, Associate Director, Web Technology Services