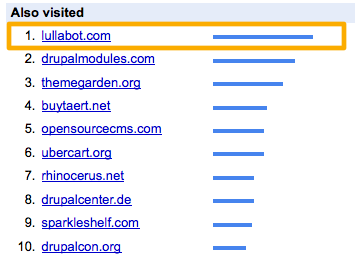 Google Trends recently added a new feature to allow users to see other sites frequented by visitors to a given site. Of course the first thing that we did was to go and see where Drupal.org visitors like to go. We were excited to find that Lullabot.com is the number-one "also visited" site for Drupal visitors.
We have certainly made an effort to provide as much useful Drupal information as possible here and it's great to know that people see us as an ongoing resource. Stats like this really gear us on to continue to publish new articles, videos, and our regular Drupal podcast. We've got a lot of exciting things on the horizon, so we hope that you'll keep coming back.
Thanks for visiting!