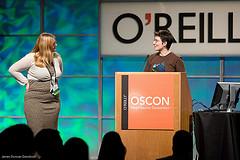 photo by James Duncan Davidson
On Tuesday night at OSCON, Lullabot's Angie Byron was inducted into the Google-O'Reilly Open Source Hall of Fame for Best Contributor. It's great to see Angie's contributions be recognized not just within the Drupal community, but the larger mindshare of the Open Source community as well. When Leslie Hawthorn, Google's OS Team Manager, stood at the podium to introduce the award, she said: "The recipient of this award is always a source of inspiration". And she is right. If you've ever uttered the words "How do I contribute?" to Angie, you see a wave of excitement come over her as she moves in a little closer, cracks open her laptop and before you know it you're writing your first patch, your first documentation, your first simpletest. It goes on and on.
Angie is a Best Contributor because she inspires countless others to take that jump into Drupal when the first step is otherwise feeling too scary to take. Congrats Angie, you totally deserve it.